Owner and Head Teaching Professional...
Tom Farlow
As a youth Tom called both the Oxford Golf and Country Club (Craigowan) in Woodstock and Stark's Golf Club of Port Rowan home in the summer months. Having picked up the game at a young age he continued to develop his skills as a player as well as his knowledge of the golf swing and is today a well accomplished player and respected Teaching Professional.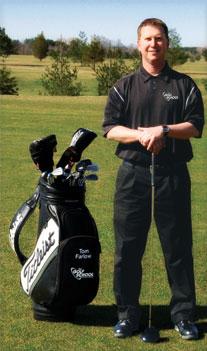 As a player, Tom was the 1st place medalist at his CGTF Certification Program, has participated in Provincial and National Championships and is a current playing member of the Great Lakes Tour as well as the Michigan/Ontario Golf Teachers Tour.

As a Level III member of the C.G.T.F & U.S.G.T.F., Tom has taught professionally for many years providing private, group, junior camp, clinic, and college program instruction. His well rounded personal attributes, his athletic ability and outstanding communication skills have allowed him to work with all levels of students including beginners, club champions, nationally ranked senior players as well as Division I & II NCAA College athletes.